Community-centered startup growth enabler having technical background and relevant experience of 7 years with startups, incubators and accelerators helping tech startups scale and grow.
I am a dedicated startup growth leader with a strong passion for fostering diversity and building communities in the workplace. With a technical background and seven years of relevant experience working with startups, incubators, and accelerators, I specialize in enabling community-centered startup growth. My expertise lies in helping tech startups scale and flourish.
Beyond my professional pursuits, I actively engage in volunteer work with organizations and communities that champion diversity and inclusion, such as Women Techmakers. I believe in making a positive impact both inside and outside the office.
My journey began at the age of 16, when I ventured into freelancing in emerging tech business development while pursuing my education. As a co-founder of a virtual reality-driven edtech startup in the premetaverse world, I achieved recognition as a Runner-Up in prestigious competitions like MIT Solve and Mohammad Bin Rashid Initiative for Global Prosperity. Among 3000+ applications, our startup stood out as the only Asian representative. Additionally, I served as one of Pakistan's first Google Developers Student Club leads, solidifying my profile as a standout student and emerging leader.  
In 2023, my resilience and accomplishments led to Emerging Leaders Awardee by State Department of U.S and got featured in a television interview on Aur Life Official. I was also honoured with the Heroes in Technology award at HBL Pakistan Super League Season 8.
During my free time, I cherish moments spent with my family and friends, exploring new cafes and embarking on hikes around the city. I am also enthusiastic about fitness and enjoy creating educational content on platforms like Instagram and other social media channels. It's worth noting that laughter is an integral part of who I am, and I take pride in my signature laughter.
Thank you for reading my story, and I hope my journey and accomplishments inspire you.
Director Ecosystem and Partnerships
Sept'22 – Present | Fasset
Leading Web3.0 and crypto exchange company operational in various jurisdictions with licenses in the UAE, Malaysia, Europe, and forthcoming license in Indonesia
Backed by Liberty City Ventures, Fatima Gobi Ventures, and other prominent investors
Key Achievement
Established and managed a robust ecosystem and community, comprising top-tier government relations, academic institutions, and startup ecosystem hubs
Promoted Fasset as a leading platform in the Pakistani market, resulting in a significant increase in trading volume
Organized successful Ask Me Anything (AMA) sessions with key opinion leaders (KOLs) across Pakistan to optimize trading volume and enhance brand visibility
Identified and developed new use cases to solve via Web3.0 Technologies, expanding Fasset's value proposition
Resolved users' issues pertaining to the Fasset App, collaborating closely with the support team to ensure swift resolution
Addressed app functionality, P2P merchant issues, and other related concerns to improve user experience
Growth Lead - COGROW Accelerator
August'21 – August'22 | COLABS
Identified, managed, and scheduled local and international co-hosted events on a weekly basis with VCs, angel investors, startup accelerators, incubators, and corporates, resulting in a 40% increase in event attendance and networking opportunities.

Built strong relationships with communities and businesses, securing dedicated and discounted opportunities for community startups and freelancers, resulting in a 20% increase in utilization of such opportunities.

Forged partnerships with content creators and ecosystem influencers, positioning COLABS as a leading ecosystem enabler and increasing brand visibility by 25% within the target audience.

Played a pivotal role in the successful seed fundraising round, securing $3 million in investments backed by Indus Valley Capital, Fatima Gobi Ventures, Zayn Capital, Teddy Himler, Turner Novack, and other notable investors.

Led the PR plan for the fundraise announcement, resulting in coverage in prominent media outlets and generating positive investor interest.

Actively contributed to the growth and expansion strategy for the next 5 years, providing an ecosystem-relevant perspective and driving sustainable growth.
Nov'20 – June'21 | ScaleX Accelerator
Developed and implemented a comprehensive brand strategy, resulting in a 40% increase in brand recognition and engagement within the startup ecosystem.

Successfully maintained and nurtured the ScaleX community, resulting in a 30% increase in active community members and improved participant satisfaction.

Conducted extensive market research to identify global market opportunities for startups, leading to the successful expansion of three cohort startups into international markets.

Provided valuable guidance and support to cohort startups in web design, content development, brand strategy, and pitch deck optimization, resulting in a 50% increase in investor interest and successful fundraising.

Spearheaded the success stories of Deaftawk, Poulta, and LearnObots, facilitating their investment rounds and supporting their scaling efforts in global markets.
 July'18 – Jan' 20 | aiyin 
Recognized as a runner-up for MIT Solve and Mohammad Bin Rashid Initiative for Global Prosperity, competing against 3000+ global edtech solutions. This achievement highlights the innovation and impact of our startup as the only Asian representative.

Strategized and executed marketing and outreach initiatives, resulting in the establishment of sponsorship agreements and the cultivation of strong relationships with institutions, administration, individuals, and communities.

Increased brand visibility and community engagement, leading to a 50% growth in user participation and a 30% increase in user satisfaction.

Collaborated with educational institutions to integrate virtual reality content into their curriculum, resulting in improved learning outcomes and a 70% increase in student engagement.
Google Developers Student Club Lead
July'19 – June'20 | Google Developers
Out of 1000+ applicants, handpicked by Google Developers to serve as a DSC Lead, demonstrating exceptional skills and dedication.

Formulated a strategic agenda for the calendar year, aligning DSC's activities with the needs and interests of the community.

Successfully grew the community membership by 100-fold through targeted outreach initiatives, engaging events, and effective community management.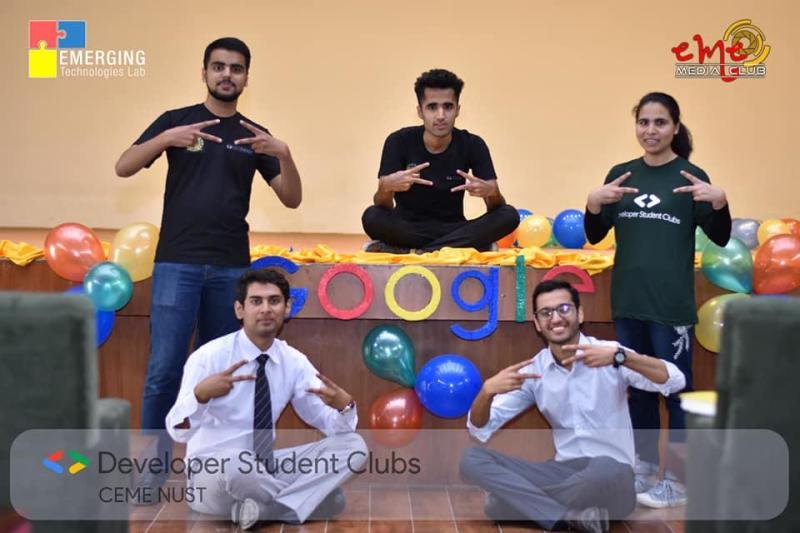 Achievements & Recognitions
HBL PSL Hamaray Heroes in Science & Technology at PSL Season 8
2023
Google Developers Group Live Pakistan Panel at Her Story: An inspiring initiative 

Speaker at Google Developers Student Clubs FAST NUCES Peshawar on How Web3.0 Is evolving the industry 

Speaker at Iqra University's Digital Wave Summit 

Podcast Guest Speaker at Makaan.com Podcast series 

Speaker at Growth Summit at ITCN Asia International Tech Show powered by ZONG 4G

Speaker at Institute of emerging careers Web3.0 for All 

Speaker at National Incubation Center, Peshawar for a session on Revenue 

Speaker at the Institute of emerging careers for a session on Unlocking the Potential of Web3.0 

Speaker at Future Fest 2022 & 2023 on Unpacking the future of centralization/Decentralization in Web3 Industry and Community Building 

National Expansion Plan of NICs Cohort 3 Startups on Product Market Fit 

Speaker at Superior University's 13th International Conference on Management Research 
2022
Speaker at Connected Women Conference 

Lead trainer for How to Develop a Business Plan for Startups by Mobilink Microfinance Bank in collaboration with Agile Pakistan

Panel Moderator at National Incubation Center's Web3.0 Summit on Web3 Usecases in Pakistan

Speaker at IEEE WIE International Leadership Summit 2022 at GCU Lahore on Web 3.0 and its potential in Pakistan.

Panel Moderator at Google Developers Student Club Summit on Building Better Communities Together 

Trainer on Pitch Deck Essentials & Best Practices for Regional Plan 9 Cohort 4 startups 

Speaker at Fasset Web3.0 Networking Event 

Host and speaker at The Binance's Web3.0 Summit at COLABS

Speaker at Women Techmaker's Cool Girl Summer Session on Women in Tech Labour Force 

FM101 Radio Show Podcast Guest Speaker 

Host and speaker at CoHack – a hackathon on sustainability and the environment 

Host & Speaker at COLABS Networking Thursdays Ft. Microsoft Learn Student Ambassadors
2021
Speaker at

hackathon "Codefest'21" by HackClub and Google Developers Student Club NUST

Speaker at Bahria University Lahore Campus Hackmafest